Some books are not good reading experiences for me. Sometimes these are books everyone loves that I just don't enjoy. There are books I steer clear off because I know I won't like them. So here's my diary page for the books and series that are just not up my alley.
The Elder Races Series by Thea Harrison
My experience with this series has been really weird
Where they stand so far:
Coming Soon: Potentially Awesome?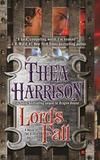 Praise for the first book in series, Dragon Bound, reverberated though the book-o-sphere late last year. I bought the book on the strength of that praise alone. And once you got past the first half, the effusive praise was right. The book was fresh and excellent. Well, then, bring on book 2.
And what a fall from grace that was. The hero of that book should have received a few slaps of sense to set him straight, and the heroine was a complete ninny. In book three, you had a hero who had been strong and wonderful in the previous books, but was a letdown in his own book. In book 4...nothing happens. And while there was more praise for this one than the intervening two books, the characters did zilch for me.
So truly, only the first book, which is absolutely delightful, is really worth writing home about in my opinion. I have all but given up on this series. The only reason I will be acquiring book 5 is because it features the couple from Book 1, Dragos and Pia, and there's the hope that with them Ms. Harrison can recreate the magic. The only other exception I'll make for this series is if there is a future book about Graydon, a supporting character I adore.
For me, this series has been one massive bust after an electrifying start. It seems Dragon Bound was a flash in the pan. Major letdown. This is one series that is (mostly) not for me.
Reviews:
1.
Dragon Bound
- 5/5
2.
Storm's Heart
- 2.5/5
3.
Serpent's Kiss
- 3/5
4.
Oracle's Moon
- 3/5